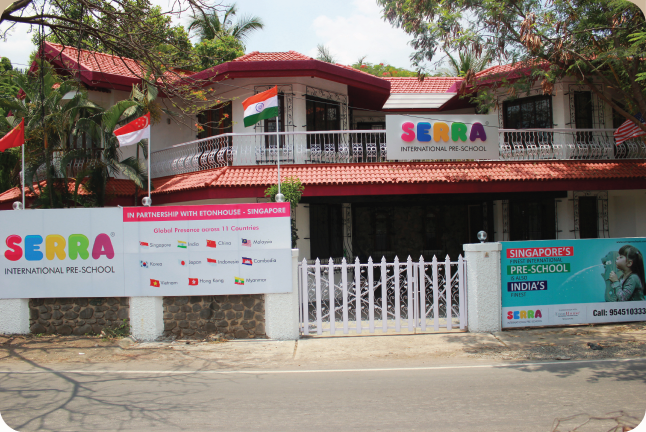 Pune – Sopan Baug
Serra International Pre School, Sopan Baug, is a quiet haven within a spacious bungalow. We take great care to cultivate a warm and nurturing environment for our children, ensuring they feel as at home as possible.
With the child as the centre of all our doing and being, the classrooms are bedecked with craft and drawings made by the children, with various simulations for learning. Children play freely and safely in the two gardens, the sand pit or the play area with toy vehicles; overseen by loving, non-intrusive and vigilant teachers.
Our teachers take on the role of a second parent, nurturing curiosity in children with activities designed to engage their unique learning interests. The teachers of the youngest Pre Nursery class guide them to be independent and caring individuals, emotionally ready to partake in the rigors of learning. In the Nursery class, children engage in conversation with teachers and peers, to develop their listening skills and vocabulary. In Kindergarten l, children learn to write and express their thoughts on paper. By the end of Kindergarten ll, our children are well ready to transit to formal schooling, able to carry out basic functions in mathematics and write small essays.
For children who continue to stay at school after class, we give homely, warm lunches and soft beds.
At Serra, the child does not feel weighed down by our expectations. We recognize our children's rights to enjoy their tender years while fulfilling our responsibility of delivering a developmentally appropriate curriculum. Teaching and learning along with them, we bring fun in learning and thus, learning becomes fun.
Contact Information
SERRA International Pre-school
13, Uday Baug,
Near Mitzen,
Sopan Baug, Ghorpadi,
Pune-411001
Tel: 91-020-26811156
Mobile: +91 9545103333
Email: info.sopanbaug@serrapreschools.com
Copyright © 2008 Edvance Pre-schools Pvt.Ltd. An Edvance Group Company
Sitemap